The StabCat, sheet pile threader, was engineered in early 1991 as a matter of necessity. A job for diversion walls being conducted below a dam in Texas could not provide access for piledrivers. Neither a man lift, or other means of safely putting a Top Man in position to stab the sheets was possible. This condition was exasperated by the steady rise in the lake's water level due to continued forecasted rainfall. There were random single and double sheets in the supplied material, and the developed Stab Cat handled the job admirably. The Stab Cat is very versatile with the ability to set double and/or single sheets with a single unit.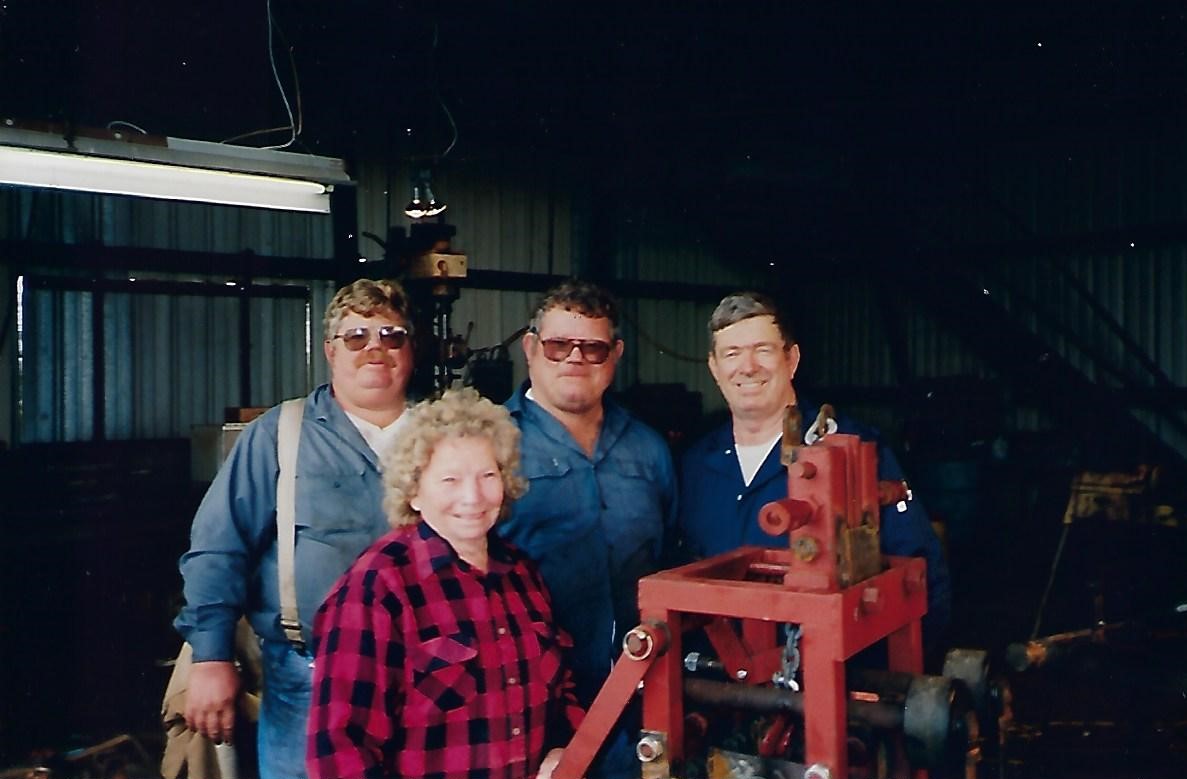 Its competitor requires two units to set single sheets, or spend excessive time changing wheels, springs, etc. and readjusting thereby reducing time to install production sheets. In our opinion, the Stab Cat is the most productive threader on the market today. Once used, those involved are impressed with its ease of use, lack of a "top man", efficient production runs and overall sheet driving cost reduction. We say this because we have a record 100% recall, and testimonials to back this up.
During the time that the Stab Cat has been available, it's use has been well received throughout the USA and some international locations. All of our products have huge potential in the Construction Industry and as more companies use our products, the more evident that their construction and use reduce piling setup times and eliminate the "TOP MAN".
The Sheetmaster shackle is patterned on an old, reliable, and much used design (public domain). The competition's shackle is like their Threader, in that the Stab Cat and the Sheetmaster are way out in front when it comes to usability and production. Another reason for the manufacturing of the Sheetmaster is because theoretically every Stab Cat needs two of these shackles when setting double sheets, and you cannot drop by your corner Hardware store and pick up one when you need it. The Sheetmaster keeps piledrivers from being at risk in that a load can be connected and disconnected, either on the ground or after the load is secured in template or structure in the air.

The Stab Cat weighs 180+ pounds, but this is not a problem, because it is handled on its own dolly (carrier) that runs on the flange edge of the template beam, or is handled by clamping onto the suspended sheet, or can be handled by an auxiliary line from crane. It takes approximately 30 minutes to completely adjust the Stab Cat with a 12" and a 30" Sheet Coupon from the sheets being pitched on the job, when it arrives on the Job.
All units are manufactured by Stab Cat, Inc., 631 Neirbo Street (Oak Island), Anahuac, TX 77514.
The Stab Cat threader was sold beginning 06/01/2002 for the first time. Units are continued to be rented. Therefore the Contractor can have the best of both worlds. (i.e. Rental for a small job of short duration and purchase for larger jobs.) In case of damage to a unit or completion of a job the unit can be returned to Stab Cat's Plant for a critical survey and repair, upgrade, or replacement. We don't want the equipment to get a "black eye" because of improper maintenance or adjustments.